STAT IO-I-PTH
The Future Diagnostics STAT-IntraOperative-Intact-PTH (STAT-IO-I-PTH) Immunoassay kit is intended to be used for in vitro quantitative measurement of intact Parathyroid Hormone (PTH) concentrations in human serum and EDTA plasma. This procedure is recommended as an aid during surgery of hypersecreting parathyroid tissue.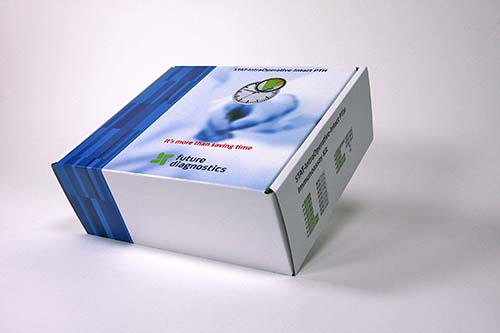 The assay is a two-site chemiluminescent immunometric assay with only one pipetting step and 8-minute turnaround time. The detection antibody is present in the lyophilized accusphere ensuring long stability and low background.
Detection Capability
previously known as sensitivity
The detection capability of this assay is defined as the smallest single value, which could be distinguished from zero with 95% confidence. The Future Diagnostics STAT-IO-I-PTH assay has a calculated detection capability of 6 pg/ml.
Download the IO-I-PTH test instruction: TEST instruction (from e-labeling.eu as a pdf file.)
Also available as Lightcheck kit for 4×96 tests containing 4x Lightcheck Plate and 4x 1 ml Lightcheck Reagent
System Specifications
Trolley
Brushed stainless steel
Micro-Centrifuge
Spins sample in 30 seconds
Microplate washer
8 channel, simple one-button operation
Microplate luminometer
2 injector pumps, optimized immunoassay software
Fixed volume
8-channel pipette
CSA/UL/ETL listed instruments
Would you like to find out more about our IO-I-PTH Solution?
We'd love to hear from you!
Contact us